News
October 2010 - Clumber Park Woodland Fair
This year Susan was invited to attend Clumber Park's first ever Woodland Fair. The event was held over the weekend of 9th and 10th October 2010 and showcased a range of products and activities associated with the estate. Vistors were offered the opportunity to participate in a variety of family activities as well as view displays and demonstrations of traditional crafts.
Demonstrations included chair making, chainsaw sculpture, charcoal burning, besom broom making, woodturning and horse logging. Susan held a pyrography workshop alongside a display of her work and this proved extremely popular. The younger generation were particularly fascinated and keen to try out this unusual artform for themselves.
The 'Green Man' could be found entertaining children with woodland stories in the play area. A new woodland bird project by the RSPB and the Forestry Commission was also launched on the day. The scheme aims to establish 40,000 new trees over the next five years to help declining woodland species like the spotted flycatcher and lesser spotter woodpecker.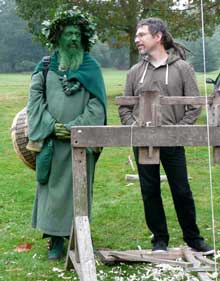 The weekend proved a great success and is intended to become an annual event in these beautiful surroundings.
Clumber Park is situated in North Nottinghamshire, south of Worksop, in the northernmost part of Sherwood Forest. Owned by the National Trust, it is an excellent place for long walks and cycle rides.
The park is over 3,800 acres in extent, including woods, open heath and farmland. Europe's longest double avenue of lime trees line the grand entrance. The avenue extends over three miles and was created by the fifth Duke of Newcastle in the 19th Century. It also contains a splendid man made serpentine lake offering a four mile route around it's banks.
A magnificent place to visit at any time of the year, with superb scenery and wildlife, you can discover more about Clumber Park including it's facilities and forthcoming events at www.nationaltrust.org.uk .