News
April 2010 - Unusual Pyrography Commissions
Working to commission, Susan occasionally receives some quite unusual requests. This month she agreed to undertake two such commissions. Both of these presented her with fresh challenges in terms of types of wood and subject matters involved.
Susan normally sources her own material to work on and utilises English hardwoods. For pyrography to be most effective there are two basic requirements. Firstly, for an even burn the wood needs to be close grained. Secondly, to provide good contrast it should be as pale as possible.
Sycamore is the traditional favourite for pyrography in this country having an extremely smooth, even grain and pale creamy colouring. Beech, though slightly darker and more orange in colour with a flecked grain, comes a close second. Lime is another good choice; a slightly softer hardwood, it is almost white and has a silky texture.
In this instance, the pieces to be pyrographed were provided by the clients themselves, the first being a wooden tankard and the second a cross section through a tree root. Susan's initial concern before proceeding any further was establishing the suitability of the wood.
With regard to the tankard commission, a forwarded jpeg attachment appeared to suggest it was made of a quality evenly grained hardwood. This the client believed to be alder. Prior to making a commitment to carrying out the requested work, on receipt Susan first carried out a small test burn in an unobtrusive place. Satisfied with the results she was happy to proceed.
The brief was to pyrograph an image of a old sailing cutter on the side and a name down the handle. The client had a very clear idea of his requirements, providing several images of the type of ship he had in mind. An image of a tall ship under full sail on water was deemed the most suitable. Susan also researched further images of sailing cutters for reference to ensure she had all the details for the sail arrangement correct while adhering as closely as possible to the chosen design composition.
On receipt of the completed piece Paul of Norfolk enthused "I was blown away with what you've done, it's just perfect, you're a credit to your profession."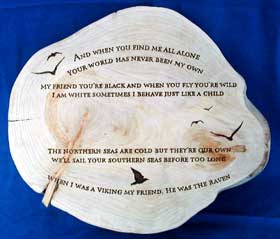 In respect of the second commission, a jpeg attachment of the tree slice seemed to suggest it was a softwood, most likely pine. Initially this caused Susan some concern as pine is normally unsuitable for pyrography, the hard and soft areas of this highly resinous wood resulting in an uneven burn. However, the approximately 30cm x 30cm slice proved better than anticipated. Examination of the piece when it arrived revealed a hardwood of some sort, possibly yew. A small test burn on the reverse proved it would be admirable for the purpose.
The brief involved pyrographing the lyrics of a song and some silhouetted images of birds in flight on to the tree slice. The intention was for the client to mount another piece of wood in the shape of a raven's head in the centre of the design at a later stage.
On receipt, Chris of Stourbridge remarked "......looks really great. Will definitely recommend you to anyone who requires such gifts in the future."