The Artist - Susan Robey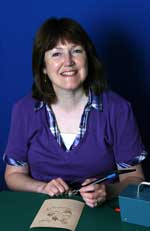 Susan is a professional British artist based in the beautiful rural county of Lincolnshire in the UK.
Described in her formative years at school as having an "artistic sensitivity seldom found in one so young" Susan nurtured a passion for creative and artistic pursuits from an early age. Now specialising in pyrography, she is also accomplished in the more traditional media of graphite, pen and ink, coloured pencil and pastel, but has always been keen to explore the more unusual. These include scraperfoil (an etching medium similar to scraperboard or "scratchboard") and glass engraving.
It was in the early 1980s that Susan discovered pyrography, or "the art of designing with fire". Despite undergoing a revival, this ancient artform was not then widely known or practised. Consequently Susan utilised her existing artistic knowledge and skills to develop her own distinctive style and technique. Her fascination with this particular form of artistic expression inevitably led to it becoming her medium of choice.
Throughout her career Susan has undertaken commissions in a variety of media, although it is her unique pyrographic works of art that are now most in demand. She has taught all aspects of pyrography in adult education classes and now runs workshops for beginners and improvers both privately and in conjunction with other organisations. She also demonstrates and gives talks and presentations to various groups and societies.
Susan is an avid nature lover and this is reflected in her work. She is also a keen photographer.