Welcome to Pyrographiques

Designs with a Difference by Susan Robey

Discover the extraordinary attention to detail in Susan's exquisite artwork. Her distinctive designs on wood and leather are created using pyrography, an artform in which she has over thirty years experience.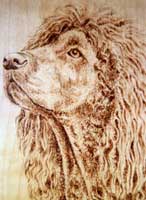 The tonal variations of Susan's original designs are achieved by burning the surface freehand to varying depths using a specialised electrically heated pen. Her advanced pyrographic techniques impart three dimensional qualities and textures unique to the medium. Colour is occasionally used to enhance realism in selected pieces. Subjects from nature are the main inspiration for her work and complement the natural materials used.
You are invited to browse a selection of Susan's previous pyrography work in the Galleries.
Site last updated 1st April 2023